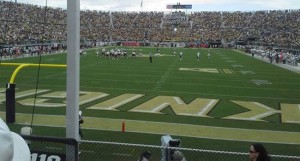 I got the opportunity to attend the game between the #13 South Carolina Gamecocks and the UCF Knights on Saturday. There was probably a 50-50 split among the fans in the north end zone where my seats were located. I got a chance to talk to a few South Carolina fans during and after the game as there was no shortage of them.
One of the things I like to do after a game is talk to the opposing fans. (I am a UCF grad, so by opposing I mean South Carolina). They were none too happy with how their team performed. Another thing I like to do after the game is check out some of the message boards of different teams. The Tennessee Volunteers fans were also none too pleased about a 31-24 victory over South Alabama.
The thing is, just because both of their opponents have a direction in front of the state in their name, USC fans have nothing to be embarrassed over. UCF has a darn good team. The Knights came into the game 3-0 with blowouts over Akron and FIU and a road win over Penn State. In none of those games had UCF even been behind. If the Knights played in the SEC, they could hang with nearly every team. South Carolina did just fine coming out of Orlando with a win.
South Alabama on the other hand, that's just embarrassing. The Jaguars are only in the third year of existence and in the second year in the FBS. This team should not be going into any SEC stadium and hanging around the entire game. What has happened to the once mighty Vols? Next week they will host the Georgia Bulldogs.  The Dawgs have already played three top teams this season and are 2-1 in those games. Tennessee is going to seem like a bye week.