It had been several hours that passed by after the fans tore down the goalposts at Vaught-Hemingway Stadium after a thrilling 23-17 win over No. 1 Alabama on Saturday, but somehow the goalpost ended up wandering the streets, being lifted by several students.
"The police are kind of tough around here," said Buckner Corso, who is in his fifth year at Ole Miss and finishing a graduate degree in accounting. "But we were just walking down the street, people were honking, and they were laughing at us."
Corso said that some of his fellow friends brought the goalpost from the field to his tailgating area, and then him and about 20 of his friends carried it around campus before it ended up at his apartment which was a mile away.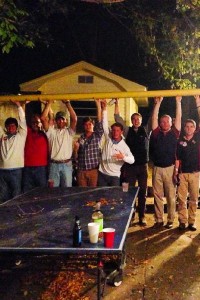 Corso tweeted a picture of the goalpost at his apartment and shortly after, athletic director Ross Bjork replied to his tweet;
@BucknerCorso Save me & @CoachHughFreeze a piece……..

— Ross Bjork (@RossBjorkAD) October 5, 2014
@BucknerCorso @CoachHughFreeze Be careful cutting it or we can help you be safe and cut it up for you….. — Ross Bjork (@RossBjorkAD) October 5, 2014
Corso decided on Sunday to cut the goalpost up into 30 pieces with his friends using a saw.
"I know I want to put an inscription on mine, and I'm going to keep it," said Corso, who didn't know if the others would take a more opportunistic route and try to sell their pieces.
This may seem ironic to you, but this isn't the first time this had happened.
Back in 2002 after Ole Miss defeated Florida, the Ole Miss Loyalty Foundation sold 100 six-inch pieces of the post that were placed on wood plaques with every detail about the game for $100 a pop.
According to ESPN, the goalposts are about $4,000 to replace. I got a kick out of reading Bjork's other tweets he posted.
Everyone in this picture should send donation to http://t.co/iGAqjYmHr4. All donations accepted for the post & fine! pic.twitter.com/Tjk0J7oXUR

— Ross Bjork (@RossBjorkAD) October 5, 2014
I guess there really are crazy Ole Miss fans in Oxford!