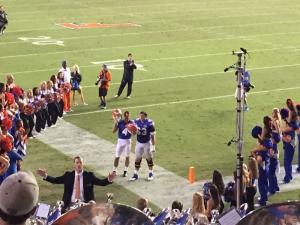 This is the scene last night in the Swamp after the Gators were humiliated by Missouri, 42-13 on homecoming night. Punter Kyle Christy and OL Trip Thurman were the only two Gators left singing the schools Alma Mater, along with the rest of the fans who stayed.
Win or lose it doesn't matter. You should always want to participate in your schools Alma Mater, especially your homecoming game that I'm sure has tons of alumni in attendance.
Being a big Gator fan myself, I am very disappointed in these young men who chose not to represent their university. That shows lack of discipline and makes the school look bad because they can't take a loss. I'm sorry, but if Muschamp can't even get his guys to stand out there for something so simple, he can pack his sh** up tonight and leave Gainesville.