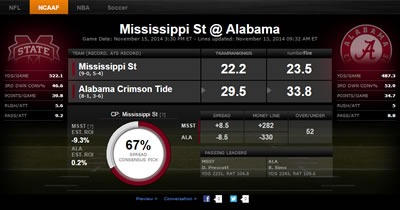 The College Football Playoff selection committee has ignored Alabama once again when projecting the top 4 teams in the country at the end of the season. Announcing their selections on November 11 for the 4 playoff teams to compete for the National Championship at the end of the year, powerful Alabama was snubbed yet again. Without an argument the strongest team in college football since 2007, claiming 3 national titles in that span, the Crimson Tide is coached by self-proclaimed perfectionist Nick Saban. He demands perfection in his own life, from his players, and in each and every football game. So how does the Alabama coach feel about the CFP snubbing? "None of that really matters."
Baylor Snubbing Just As Much of a Head Scratcher
Alabama and Baylor fans took to Twitter as soon as the latest CFP Top 25 poll and Top 4 projections came out. Baylor is ranked #7, 3 spots behind TCU, even though they beat the Horned Frogs earlier this year and have an identical record. TCU jumped Alabama to land in the #4 spot, ahead of Bama at #5. Under the current College Football Playoff format, the 4 top ranked teams at the end of the season have a playoff for the NCAA Division I College Football Championship. If the Crimson Tide stays at the number 5 spot or lower, they will play in a really big, important and financially profitable bowl game. But they will not have a chance to notch their 4th National Championship in 8 years. Although Bama Nation is in an uproar over the ranking, head coach Saban couldn't care less.
Why The #5 Alabama Ranking Doesn't Matter
That is because Alabama is 8 – 1 and plays in the most difficult conference and subdivision in all college football. There is no argument that the SEC West is the premier conference and division in NCAA Division I ball. And Alabama hosts #1 ranked Mississippi State on Saturday, November 15. A victory easily slides the Tide into the number 4 spot at least, and possibly as high as number 2 or 3. Alabama also must play intrastate rival and #9 ranked Auburn the last game of the season. A win there followed by a victory over the Bulldogs this Saturday and they would lock up probably either the number 1 or number 2 spot in the playoffs, easily guaranteed at least inclusion in the top 4. In the weekly SEC teleconference on Wednesday, Nick Saban surprised reporters and calmed the fears of Alabama fans when he stated that, "I didn't even really know what we were in the poll, and it really doesn't matter at all to me or our team or our players."
Alabama – Win Out and You're In
And when you think about it, that is exactly how you want your coach and players to face each week. It is not as if Alabama would play harder to move up the rankings. Does that mean that they would take it easy if they were the #1 ranked team? Of course not. As Saban said, "If you don't have success in the games that you play, the poll's not going to matter." Exactly. He understands that Alabama consistently, year in and year out, has to "play really, really good teams in our league" and escape the season with no more than one loss to have a shot at the national title under the current playoff format. With Mississippi State up next, you had better believe that perfectionist Saban will have the Tide positioned for a victory. Mississippi State has been ranked #1 in all 3 of the midseason CFP rankings so far.
Beat #1 to Be #1 … or at Least #4
Beating the Bulldogs on Saturday would knock the #1 ranked team off of its pedestal, leaving that spot for some team to move up. And obviously, it would make Alabama's playoff resume that much more impressive. But just like Baylor fans are complaining, Crimson Tide backers are upset that the CFP Selection Committee is obviously weighing margin of victory greater than strength of schedule. With Baylor's defeat of TCU, an identical 8 – 1 record and TCU being named the 4th playoff team, there is definitely some appearance of lack of integrity on the choices made by the selection committee. But Saban is right about one thing. Beat the #1 ranked Mississippi State Bulldogs Saturday, then defeat #9 ranked Auburn 2 weeks later, and the Tide forces the CFP committee to give the Tide a shot at their 4th national title in the last 8 years.
Betting Line On This Game
Even though Alabama has 1 loss this season and Miss State is undefeated, the experts in Vegas still  have Alabama winning by 8 points. Link For Alabama Crimson Tide Betting Lines